We meet with each client and their close advisors initially to discuss family goals, retirement objectives, risk management, asset protection and personal objectives. We establish the priority list and then discuss the techniques available to achieve those goals and objectives. Once this is completed we prepare an analysis of the options available and discuss the pro's and con's of these options. We model the techniques numerically so the client can see the exact result of each potential solution.
Once an action plan is decided upon we then assist with the implementation of the solutions selected and follow through to their completion. This might include family meetings, advisor meetings, interfacing with trust companies, etc.
We review all our plans as necessary and hold family meetings to make sure we are up to date on concerns and issues.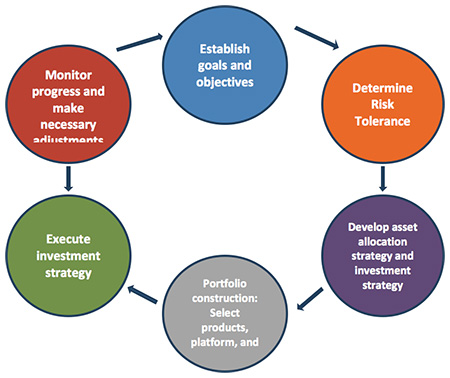 Plan
Everything starts with a plan
Planning is the gateway to what is possible. It is our belief that every family, large or small, should have a financial plan. Each of our clients gets one at no additional charge. A plan is the first step in our ongoing relationsihpa nd the framework for how we make decisions. It all starts with the most essential questions. What is important to you?
Access
Manage and track your assets efficiently
Access to the 'Pacific Peak Toolbox' Mobile account viewing
Visa debit card
Check writing
Wire transfers
Electronic funds transfer service
Save
Prepare for the retirement you envision
Traditional IRAs
Roth IRAs
IRA rollovers
Fixed rate annuities
Variable annuities
Grow
Access investments that align your objectives with your goals
Equities
Taxable fixed income
Non-US equities and fixed income
Municipal bonds
Open-end mutual funds
Exchange traded products
Precious Metals
Market-rate CDs
Real estate investment trusts
Fund an education for a loved one
Enhance your business' benefits
Protect
Help safeguard your family and future
Elder care planning
Social security
Medicare
Implement insurance that meets your financial objective
Life insurance
Long-term care insurance
Disability income insurance
Give
Charitable gift annuities
Strategic giving advice
Family advisory services
Next generation giving
Giving through trusts